Previous Emerging Artist Award Winner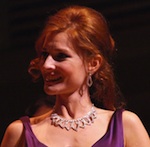 Recognized as Washington's gift to opera, Lyric Coloratura Soprano Jessica Stecklein (nee Swink) possesses a unique voice of angelic beauty imbued with a luscious richness that has always succeeded in moving and delighting her audiences. Ms. Stecklein has enjoyed popular and critical acclaim in all of her performances. She sang the role of Essy Baker in the premier of Democracy, and with the Washington National Opera as Pamina in Die Zauberflote. With Opera International Jessica sang the role of Blanche in the Dialogues of the Carmelites, as Gilda in the fourth act of Rigoletto and performed in their 2005 Operatic Vocal Gala at The Music Center at Strathmore.
Mrs. Stecklein performed Samuel Barber's Knoxville, summer of 1915 with the National Symphony as the Winner in their Young Soloists Competition at the Kennedy Center and in Ravel's L'Enfant et les Sortileges and Gounod's Messe Solonelle. She recorded a duet Belle Nuit from The Tales of Hoffman with Denyce Graves for a PBS Television Special and performed with her in Grendel at Lincoln Center and at Los Angeles Opera where she was a Resident Artist.
Visit Jessica Stecklein's website to read more!