The Amadeus Concerts, Inc. began in 1980 as the Great Falls Music Society. The late Timothy Rowe, a noted musician and conductor and inspiring friend to many, brought together a community of music lovers in Northern Virginia. From the beginning the mission of Amadeus Concerts included delivering fine music to local communities and music education and outreach for all ages.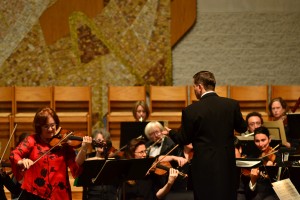 Amadeus Concerts, through the support of the board and a group of benefactors, appointed A. Scott Wood as the Artistic and Executive Director in 2006.
Over recent years the organization has grown its audiences and found supporters from many areas beyond Great Falls and McLean including the Dulles Corridor, Maryland and Washington DC.
The board continues to be dedicated to maintaining affordable admission and encourages attendance by families and seniors. In recent years the active side-by-side program in schools has been championed by past president, Maury Brown, whose untiring work has helped put Amadeus Concerts truly on the musical map in Northern Virginia.