by Sandy Brotman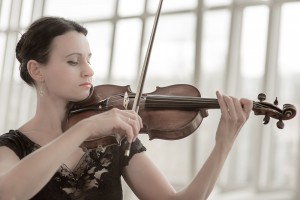 Alexandra (Sasha) Mikhlin has been our concertmaster since 2013. She is tasked foremost with a deep understanding of the musical score, leading the violin section to sound as one instrument by way of subtle body movements and breathing, and with being the major link between our conductor, Scott Wood, and the orchestra (specifically, the string sections).
Note: You, dear audience member, are always invited to our rehearsals, where you will see Sasha marking up her score with "articulations" and "bowings" to reflect how Scott wants the musical phrases to be played, and then conveying that to the other string members. Our concertmaster will demonstrate bowing techniques in rehearsal and tune the orchestra in rehearsals and performances. Additionally, she may collaborate with the conductor to work out a problem or an approach to the music, figuring out the mechanics of a piece.
Sasha was born in Vladivostok, Russia. Her family moved to Novosibirsk when she was 12 to further her musical studies with a highly regarded violin teacher. Sasha was inspired—musically as well as personally—by her father Mikhail Solomon, who was also a violinist and a conductor. The family immigrated to Cleveland in 1991, where she studied at the Cleveland Institute. She completed her graduate studies in violin performance at Yale University.
Sasha teaches at the esteemed Levine School of Music, where two of her students recently won 1st prizes in the highly regarded Marlin-Engel competition. In addition, she serves as an adjunct professor of Russian at the U.S. Naval Academy in Annapolis. Sasha regularly plays with the National Philharmonic, substitutes with the Baltimore Symphony and the Washington National Opera (most recently in Wagner's "Flying Dutchman") and last month won a permanent position with Annapolis Symphony.
She and her husband Marcus have three young children –Katya, Misha, and Nadya – and live in Annapolis, Maryland. She is especially looking forward to the performance of Brahms's symphony, as she thinks his music is filled with passion, rich textures, and warm sound. She says, "Brahms's score is a wonderful canvas for an artist to work with."