Seth Arenstein profiled Czech Philharmonic Concertmaster and international soloist Josef Špaček in advance of Špaček's appearance with Amadeus during the 2014-2015 Season.
November 4, 2014
Europeans have figured it out. Americans have some of the longest working hours in the industrialized world, coupled with the shortest paid vacations. Contrast that with European work totals, which are dwarfed by ours. Vacations? How many American companies grant workers 4-6 weeks paid vacations routinely?
At this point you might be asking, 'What has this to do with Josef Špaček, who will be soloing with Amadeus Orchestra's strings November 15?' Quite a bit, actually.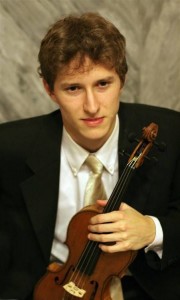 Špaček's career decisions are guided in large part by Europe's sensible philosophy that a more manageable workload and ample vacations are important ingredients for keeping workers motivated. In fact, research shows that overworking and eschewing vacations actually can harm health and hurt family life.
But back to Špaček, the lanky, handsome 28-year-old whose day job is Concertmaster of the Czech Philharmonic. How he manages a full-time job and still has enough time and energy to carve out a career as an international soloist is rooted in the concept of sensible work arrangements.
Upon graduation from Julliard "I didn't want to apply for a U.S. orchestra position," the Czech-born Špaček says in excellent English, honed by seven years of college and grad school in the U.S. "Orchestras in Europe pay a lot less money, but have one amazing perk – a lot of free time. Most European orchestras have 2 or more concertmasters, which usually means that they split the work equally. This means that we work about half the workload. My position with the Czech Philharmonic gives me a lot of spare time to focus on other activities, such as solo playing." As we said above, leave it to the Europeans.
When it came to choosing a line of work, Špaček went quickly into the family business. "I chose violin at age 3," he says, "and started taking regular lessons at 6. I come from a musical family so the career choice came pretty early." As a child Špaček attended numerous musical events, including Czech Philharmonic concerts, tagging along with his father, Josef Špaček Sr, a cellist in the orchestra.
A modest person, he's loathe to say he dreamed of joining the Philharmonic or of one day becoming its Concertmaster. "As a child I didn't know whether I would want to become Concertmaster of this wonderful orchestra or have a career in the U.S." A better dream—having a job before you graduate. That became reality for Špaček. "During my last year at Juilliard, the position of Concertmaster became vacant and I won the audition. Here I am now enjoying my 4th season with the orchestra."
A Familiar Face to Amadeus
Špaček should be familiar to veteran Amadeus patrons. A keen assessor of young talent, Amadeus Music Director Scott Wood heard Špaček and his brother Petr play a chamber concert in Virginia about five years ago. Upon Maestro Wood's urging, Amadeus named the Špaček brothers winners of its Emerging Artist Award. As part of the Award, the duo was featured in an Amadeus concert. They performed the Brahms Concerto for Violin and Cello, Opus 102, during a 2010 concert. Špaček was named Concertmaster of the Czech Philharmonic shortly thereafter.
"With [the Czech Philharmonic] touring the U.S. this month, it seemed like a good time to have Josef back with us," Wood says of the concert, which has become a homecoming and a 'local boy makes good,' well, sort of. "After studying and living in the U.S. for 7 years, it really became my second home. And I met my wife in the U.S. as well." A bonus— Špaček's gorgeous spouse, Isabel Collyns Špaček, is from the D.C. area. "I've been to D.C. many times," he says.
As for comparing his teachers at Curtis and Julliard, where he did his undergraduate and graduate work, respectively, Špaček is diplomatic. "I learned so many things just by living in the U.S.," he says. "On the musical side, of course, having such amazing teachers was part of the whole experience. I enjoyed working with each of them tremendously." His teachers included Jaime Laredo and Ida Kavafian at Curtis and Itzhak Perlman at Julliard. Comparing the schools, Špaček is clear. "I loved my time at Curtis the most. It was a lovely small school with the most inspiring students and teachers I have ever met."
Was there a style of violin playing or an aspect of musical education that attracted him to study in the U.S. as opposed to Europe, we ask him. "I think the U.S. and Europe have a lot to offer in music education. The schools in the U.S., where students receive a whole package of subjects to study, are probably unparalleled. On the other hand, Europe offers great teachers pretty much everywhere you go. Students in Europe choose their schools more depending on the teacher they want to study with."
Laurels and Recordings
His decision to study in the U.S.,  plus a lot of talent and practicing, seems to be working out well. As a newly minted master's graduate of Julliard, Špaček's solo playing was reviewed favorably by The NY Times during a 2011 commencement concert at Alice Tully Hall. Writing in The Times on May 20, Zachary Woolfe noted Špaček "played with a sweet tone, deliberate phrasing and vigor in the rollicking Hungarian-style third movement" of the Brahms Violin Concerto in D, opus 77.
After graduating from Julliard, Špaček was a finalist at the Queen Elisabeth Music Competition in 2012. Earlier, he became a laureate of the Michael Hill International Violin Competition (New Zealand, 2009) and the Carl Nielsen International Music Competition (Denmark, 2008).
His recording debut came in 2006, while still a student, with a disc of Eugène Ysaÿe's sonatas. In 2010 a disc on the Naxos label had Špaček performing works of Heinrich Wilhelm Ernst, a 19th century Czech violinist and composer who some considered to be the Paganini of his day. Last year Špaček made his first recording on the Czech label Suprahon, playing compositions by Prokofiev, Smetana and Janáček.
Špaček's credits include engagements with The Philadelphia Orchestra as well as numerous solo appearances with orchestras and ensembles in his native Czech Republic, Australia and New Zealand. Conductors he's worked with include Jirí Belohlávek, Manfred Honeck, James DePreist, Roy Goodman, Eliahu Inbal and Christoph Eschenbach, Music Director of D.C.'s National Symphony Orchestra. His chamber music work has taken him to performances and festivals throughout the world. He's also nearly a rock star in the Czech Republic, where he's constantly appearing on television and popping up in magazine and newspaper interviews.
With all that, he still finds time to pursue hobbies like water sports and travel. "I love traveling, meeting new people, learning about different cultures and cuisines," he says. And when he has a moment to put down his bow and listen to music, he makes a beeline for recordings by the late Russian violinist David Oistrakh. "He's my all-time favorite. I love all his recordings."
Soloist vs Section Player
During this two-week, bi-coastal tour of the U.S., Špaček will have little down time, however. He'll be leading the violin section of the Philharmonic one night, soloing in front of the orchestra on another and rushing off to play solo engagements, such as he's doing with Amadeus. Fortunately, Špaček feels he's found the key to thriving in this peripatetic musical lifestyle. "Switching between soloing and orchestral playing is a very natural thing. Music is about listening. If you listen well, you will have no problem adapting to all kinds of different settings," he insists.
Of course Špaček's view is conditioned by his musical approach. "Being a soloist should always be fun," he says. "Having an entire orchestra behind you, supporting you in your concerto, is an incredible feeling. There's so much wonderful repertoire for the solo violin, it's always exciting." It can also be stress inducing. "One might think that playing a solo concerto with an orchestra can be a stressful experience, and that's true. Partially." Consider this, Špaček will have just one rehearsal with Amadeus before playing the concert; though Maestro Wood says he and Špaček will "be keeping in touch about interpretational details." Wood adds, "It's not as hard to bring things together as it might seem, though I would always like another rehearsal."
Interestingly, soloing in front of an orchestra is less stressful than another musical scenario, according to Špaček. "Trust me, playing a solo as a concertmaster in a symphony is a lot worse than playing a concerto. You have just a few bars to shine and you get no warm up before it. All of a sudden, there you are, alone and playing the most nerve-wracking few bars. All that in front of your colleagues, who watch you very closely."
We're glad to report that Špaček will get plenty of time to warm-up before his performance with Amadeus. And members of the Amadeus strings have promised not to watch him too closely. Seriously, though, Špaček loves the piece he'll be playing with Amadeus: Astor Piazzolla's Four Seasons of Buenos Aires. Written by the Argentine in the mid- and late-1960s and 1970, the four tangos comprise a work "that's probably the most fun piece for solo violin and string orchestra," Špaček says. "It's beautifully written and incredibly well arranged for the violin." The work is technically challenging, "beautiful and wild, which is typical of Piazzolla's music." We're sure Špaček is up to the task.
###